I LOVE Fried Chicken!
...especially on holidays like July 4th!! But I love being lean and fit more.
Fortunately, you can enjoy both this summer with this delicious
fried chicken recipe below. It's baked actually, but it definitely tastes fried!
And it's smothered in this amazing BBQ sauce recipe that has HALF the sugar and calories, but is just as sweet!
You (and your friends and family) will absolutely LOVE this chicken recipe and it's 100% Guilt-Free because it has 20 gramsof protein, 5 grams of fiber, only 3 grams of fat and sugar, and just 142 calories per piece!
Print this now, thank me later...
Chicken Ingredients:
* 3 lbs skinless, boneless chicken breast - cut into 1 inch strips
* 3 cups high fiber, low sugar cereal (e.g., Kellogg's Wheat Bran Flakes), crushed
* 2 teaspoons garlic pepper seasoning
* 2 cups nonfat milk (almond milk works well too)
* 4 egg whites
BBQ Sauce Ingredients:
* 1 6-oz can tomato paste
* 1 12-oz can of sugar-free soda (sweetened with Stevia from a
natural foods store - preferred)
* 1/4 cup low-sugar catsup (e.g., Organicville)
* 3 tablespoon mustard
* 1 tablespoon Worcestershire sauce
* 1 pinch ground cloves
* 1 small onion, minced
* Hot sauce to taste
Directions:
1. Preheat oven to 350 degrees. Spray a baking sheet with
2. In a shallow dish, stir together the crushed cereal and
garlic pepper.
3. Combine all "BBQ Sauce" ingredients and simmer over medium
heat for 20-30 minutes.
4. In a separate bowl, whisk together the milk, BBQ sauce, and
egg whites.
5. Coat chicken with the cereal/pepper mixture, then dip into
the milk/sauce mixture. Then dip in the cereal/pepper
mixture again.
6. Place chicken strips on the prepared baking sheet.
7. Bake for 30 minutes in the preheated oven, or until golden
brown on one side. Turn over, and continue to cook until
golden on the other side.
8. ENJOY!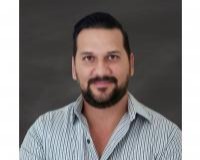 Author:
Fernando Bustamante
Phone:
915-319-9004
Dated:
July 5th 2012
Views:
3,342
About Fernando: ...